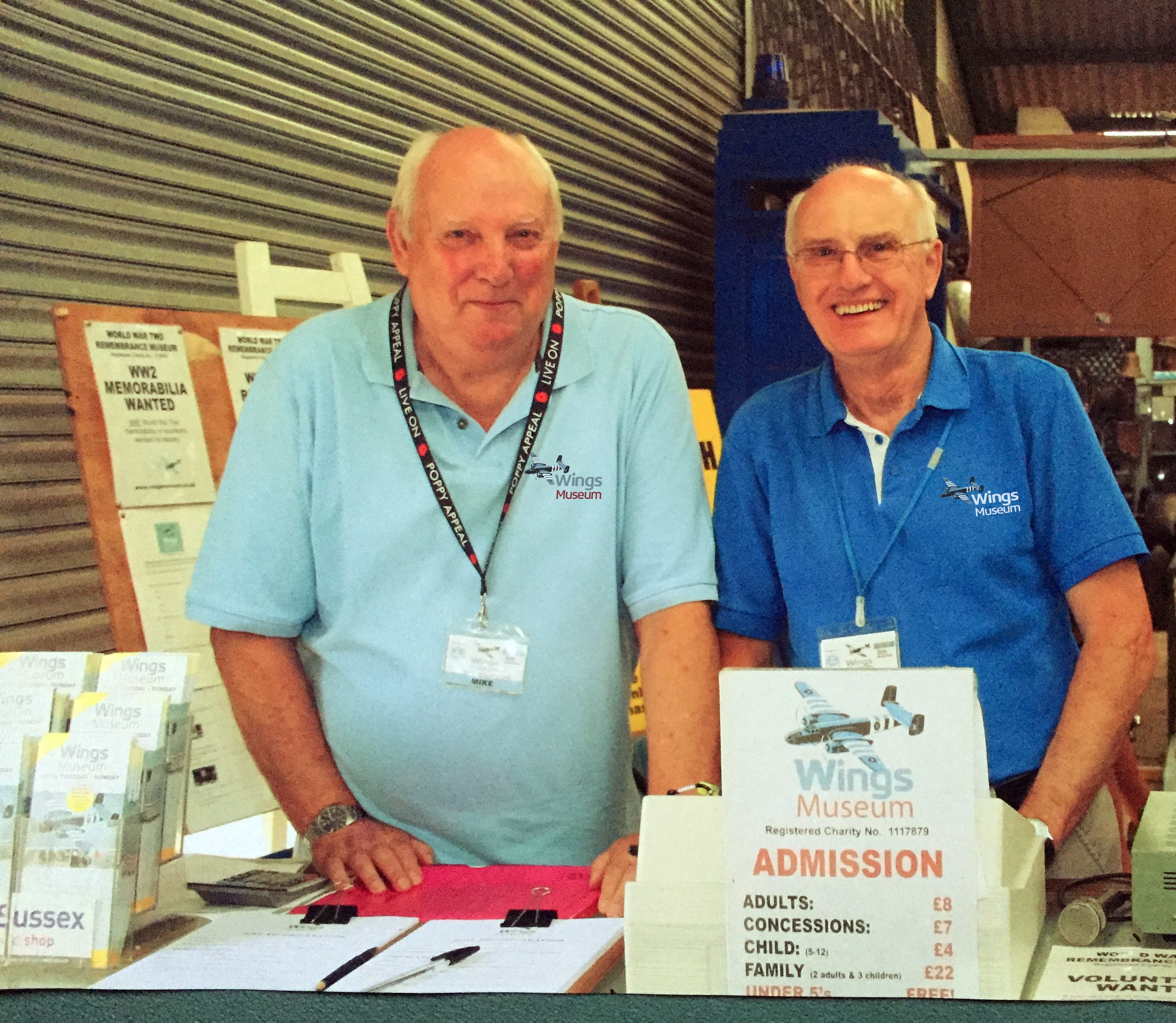 The Wings Museum is a standing testament to our past and current volunteers.
They have dedicated thousands of man hours to present this museum as a permanent memorial to all those who served in World War Two and beyond.
The Wings Museum is also extremely active in the world of restoration. There are a wide variety of restoration projects currently on the go within the museum workshops.
We offer a friendly relaxed place to volunteer as part of our Front of House Team, Sales and Marketing Team or our dedicated Restoration Workshop Team.
If you would like to volunteer at the Wings Museum please make contact with some details about yourself, any previous experience and of course which days you would like to volunteer. You will usually then be invited into the museum to meet the rest of the team so you can get a feel of what the role entails before committing yourself.
Museum Front-of-house
Requirements: To help attend and monitor displays, and chat to the general public. Each display has all the history and information associated with it, but it is often nice to point out specific items of particular interest to visitors. Above all, we demonstrate the "Wings Museum Friendly Welcome" to all of the visitors to the museum.
Research:
Requirements: Own transport is vital! We currently have a small team of volunteers who are carrying out research on behalf of the museum at the National Archives (what was the Public Records Office) at Kew. If you would like to help out please get in touch.
Preservation:
Requirements: You will need a lot of patience as this position involves the cleaning and preservation of World War Two artefacts for display in the museum. The Museum can provide you with basic training, and there is normally someone on hand to offer advice or answer any questions. This is a vital part of the work of museum.
Engineering:
Requirements: We currently have several projects in the pipeline including airframes and several aero engines. We are currently looking for people who have an engineering background and have the knowledge of using a Lathe or Milling Machine. If you are from an engineering background, retired or have a bit of spare time then you can greatly assist the museum.
Sheet Metal:
Requirements: We are currently looking for experienced sheet metal workers. The museum has a fully equipped workshop. We currently have several projects in the pipeline. Some of our ongoing projects include: Jumo 211 engine rebuild, Rolls Royce Merlin rebuild. Also Bell P-63 Kingcobra, Douglas A-26 cockpit, a B-24 Emerson Gun Turret to name just a few.
Promoting the Wings Museum:
Requirements: This role involves you promoting the museum and its open days. Whether it is leaflet distributing, writing articles for the local press, perhaps seeking sponsorship or even using your own intuitive in promoting and organising museum open days. Much of our advertising is done in leaflet exchanges or placing leaflets in public areas such as Libraries, Shops, Post Offices, etc. The museum already has leaflets and posters available to anyone who would like to place some leaflets or a poster in a public place.
PROJECTS…..
People experienced in sheet metal and/or solid riveting
Precision engineers (to make up tools etc.)
Restoration/preservation of Aero engines including Junkers Jumo 211 and Rolls Royce Merlin
Attending public open days
Preservation/cleaning of aviation artefacts
Enhancing displays, coming up with ideas and implementing them to encourage public interaction (for example, introducing a kids activity worksheet or schools' pack)