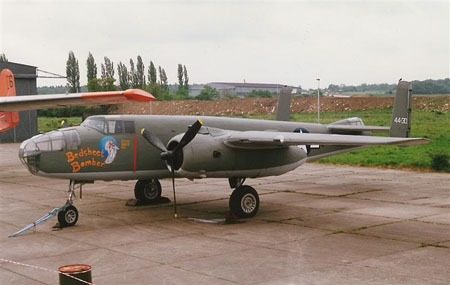 B-25J-25-NC 44-30861 was delivered on March 5, 1945 as one of the many late war production B-25s that was allotted to the Training Command in the United States.
She was first assigned to the multi-engine transition base at Douglas AAF, Arizona where she served out the war attached to the 3014th Base Unit. In early 1946 she was assigned to Chanute AAF, Illinois where B-25s were still being used for crew training. In 1951 she was attached to the 3650th Inspector Generals Wing first at Hancock Field then Sampson AFB, New York. Duties were for transport and administrative functions at the time. After being converted to a TB-25N at Birmingham, Alabama, in early 1954 she was reassigned to Lackland AFB where she was attached to the 3700th Military Intelligence Wing. At Lackland she was used as both a proficiency aircraft and as staff and command transport. She served out her remaining active duty time at Lackland AFB and was retired to Davis-Monthan AFB, Arizona for storage in December 1958.
Model: B-25J-25-NC
Serial Number: 44-30861
NAA Mfg. Number: 108-34136
FAA Registration: G-BKXW
Mfg. Plant: Fairfax – Kansas City, Kansas
Completion Date: March 2, 1945
Delivery Date: March 5, 1945
Status: Restoration to static
Owner: Wings Museum
Location: Balcombe, Sussex
Notable info: Camera ship for "War Lover" as well as "633 Squadron"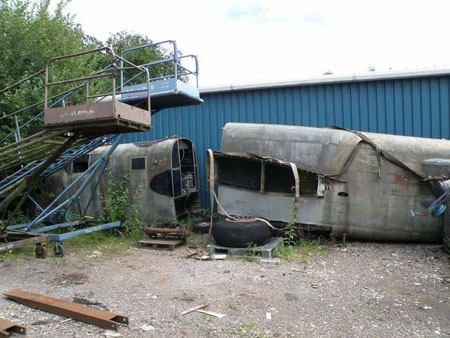 She was sold from storage at Davis-Monthan AFB to an operator in Cincinnati, Ohio. At the time she was listed as a VB-25N, the designation for personnel transport. Eventually she was sold to Aero Associated of Tucson, Arizona where she was modified into a camera ship and given the name of "Moviemaker II". Several modifications were made to her at this time including a bomb bay fuel tank which was used for a flight to England as well as various internal changes for camera work. She arrived in England in 1961 where she served as the photography platform in the film "War Lovers". In 1963 she was used again for the filming of the movie "633 Squadron".
After these two films she was based at Biggin Hill where she sat, eventually became a derelict airframe. She was rescued in 1966 when acquired by the British Historic Aircraft Museum. In 1967 she was transported to Southend Airport and put on display with the other museum aircraft. The British Historic Aircraft Museum closed after a short period of time and she became the property of another museum in the same area called the Southend Aviation Museum. The museum did some restoration work to her by adding a top turret and giving her an RAF colour scheme representing a Mitchell III of No.98 Squadron RAF at Dunsfold circa 1944. She was given the squadron code of VO-A and the RAF serial of HD368. She remained on display for the next 15 years. The Southend Museum closed in 1983 and the aircraft in the collection were sold. She was acquired by Aces High of North Weald, England and moved to Duxford.
In October 1988 she was moved to North Weald, England where she remained for several years. The British registration of G-BKXW was applied for but was never formally used. She was given a USAAF olive drab colour scheme and the name "Bedsheet Bomber".
There are major corrosion problems as well as other factors to the airframe that would require a great deal of time and finances to complete any airworthy restoration. In 1996 she was obtained by the Imperial Aviation Collection and moved to North Coates in northeast England. She was planned for display at an old airbase but the museum ran into financial problems and she was again sold. In 2006 she was obtained by the Wycombe Air Park and moved to a new location.
After several more years of neglect, she was acquired by the Wings Museum in Balcombe, Sussex where restoration to static display is currently underway.
Content from B-25 History.org
Check out the Bedsheet Bomber's own Facebook page