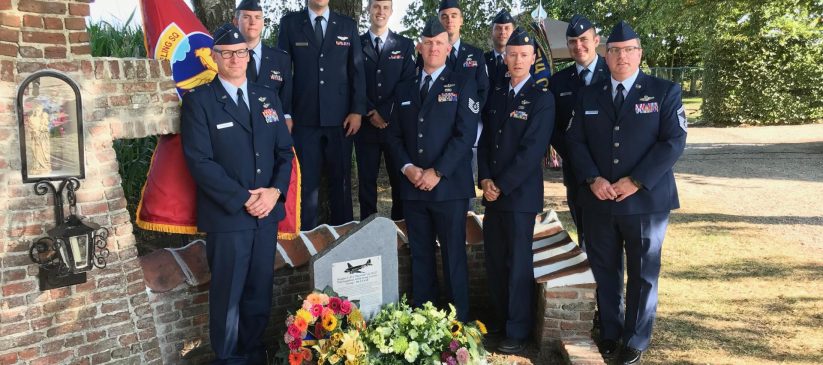 The Flight
On September 19th, 1944, C-47 42-24127, belonging to the 76th Squadron 453th Troop Carrier Group, was en route to Son in the Netherlands as part of Operation Market Garden. The aircraft was hit by heavy anti-aircraft, small arms and 20mm fire from the ground, and crashed near to Kasterlee.
The pilot Lt. John W. Hesketh and his Radio Operator Staff Sergeant Martin M. Worobrow tragically lost their lives. Fortunately the rest of the crew managed to bale out.
The aircraft was towing a glider that was quickly cut loose, enabling it to make an emergency landing near the Corsendonk priory in Oud-Turnhout.
The Crew of the C-47 42-24127
First Lieutenant John W. Hesketh DFC – Pilot. Killed in action.
Lieutenant Charles M. Pollock – Co-Pilot. Escaped.
Staff Sergeant Martin M. Worobrow – Radio Operator. Killed in action.
Sergeant Nicholas Brooke Turner – Flight Engineer. Prisoner of War.

After his escape, Pollock was taken care of by people from Vorsel and the Kluis and hidden from the Germans in a hut against the Tikkebroeken.
---
On Saturday 21st September 2019, a memorial was unveiled, near the town of Kasterlee in Belgium, to the crew of C-47 42-24127 from the 76th Squadron 453rd Troop Carrier Group.
The memorial was a joint venture between Wings Museum UK, Gemeente Kasterlee, Heemkundige Kring Kasterlee-Lichaart-Tielen, Raymond Baeken, and local researcher Jhonny Bastiaensen.
Several relatives of the pilot attended the memorial service, together with representatives from the US Air Force Attaché.